News
Maron Marvel Member Jack McCants Serves as a Panelist at National Asbestos Litigation Conference
September 30, 2021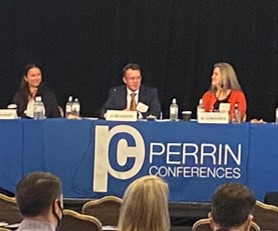 Maron Marvel member Jack McCants spoke at the 2021 Perrin Conferences National Asbestos Litigation Conference on September 27, 2021. Jack, located in the Maron Marvel's Ridgeland, Mississippi office, was a panelist on the "National Trends Driving Asbestos Litigation" panel. Other panelists included: Perry J. Browder, Esq. of Simmons Hanly Conroy LLC, Bridget G. Longoria, Esq., Resolute Management Inc., Megan Shockley, KCIC, and Erin M. Voyik, Esq., The RiverStone Group.
Jack represents numerous clients in general litigation, product liability and toxic tort matters throughout the United States. He has considerable experience defending general product liability, personal injuries, construction contract formation and project representation (all phases), construction defect litigation, toxic tort, and pharmaceutical matters.

Explore
related services
Etiam porta sem malesuada magna mollis euismod. Nullam quis risus eget urna mollis ornare vel eu leo. Vestibulum id ligula porta felis euismod semper.