News
Maron Marvel Expands with Addition of Alabama Office
June 5, 2023
Maron Marvel is pleased to announce its expansion in the southern United States with the addition of a new office in Mobile, Alabama. This is the firm's 13th office spread among ten states, including some of the most litigious states in the country.
Maron Marvel director and seasoned Alabama trial attorney Donald Partridge will be managing the new office in Mobile. He brings 40 years of experience, including first-chair trial experience, in cases ranging from toxic tort to construction to professional liability cases. Maron Marvel director Richard Crump will also be practicing in Alabama.
"We already are serving clients with operations in or located in Alabama, and our clients' needs are growing in the southern region of the United States. Expanding to Mobile was an easy decision that coincides with our growth plans," said Cathie Pyune McEldowney, Maron Marvel's Managing Shareholder and President. "As we continue to develop and extend our client base on a national level, we hope to continue to bring on more experienced diverse litigators who share our philosophy to provide best-in-show service while providing value and cost-efficiencies to our clients."
Donald Partridge is a first-chair trial attorney with extensive experience managing complex litigation to verdict. He also serves as national coordinating counsel for a comprehensive and diverse industrial supplier. He is also local and regional counsel for multiple toxic tort defendants in Alabama, Mississippi and Arkansas and has been directly involved in several significant and groundbreaking decisions in those jurisdictions.
"We are excited to widen our geographic footprint into Alabama, a state with a developing economy in several of the key industries we serve currently. Our new office positions the firm to better serve existing clients while supporting Maron Marvel's core values," said Donald Partridge, Alabama Managing Office Attorney.
Joining Partridge is his colleague Maron Marvel director Richard Crump who has spent most of his 30-year legal career defending companies in high-risk litigation involving personal injury and wrongful death, product liability, environmental contamination, and construction defect and deficiency. He is well-known as an "expert on the experts" and is one of the nation's leading attorneys in preparing and deposing corporate witnesses and experts. In addition to handling cases in Alabama, Richard practices in Florida, Louisiana, and Mississippi.
Maron Marvel's new office is located at 1111 Dauphin St., Mobile, Alabama. The office can be reached at 251-678-9535.
Established in 1996, Maron Marvel started as a boutique toxic tort practice in Wilmington, Delaware, and has grown into a nationally respected firm practicing in 27 states from 13 offices located throughout the United States. Maron Marvel's devoted attorneys and staff work in synchrony to climb higher, smarter, and faster to elevate national litigation risk management. Our lawyers are focused on winning by being fearless, loyal, efficient, and steadfast. We are equally committed to improving the world and legal profession through dedicated DEI, community service, and attorney development work.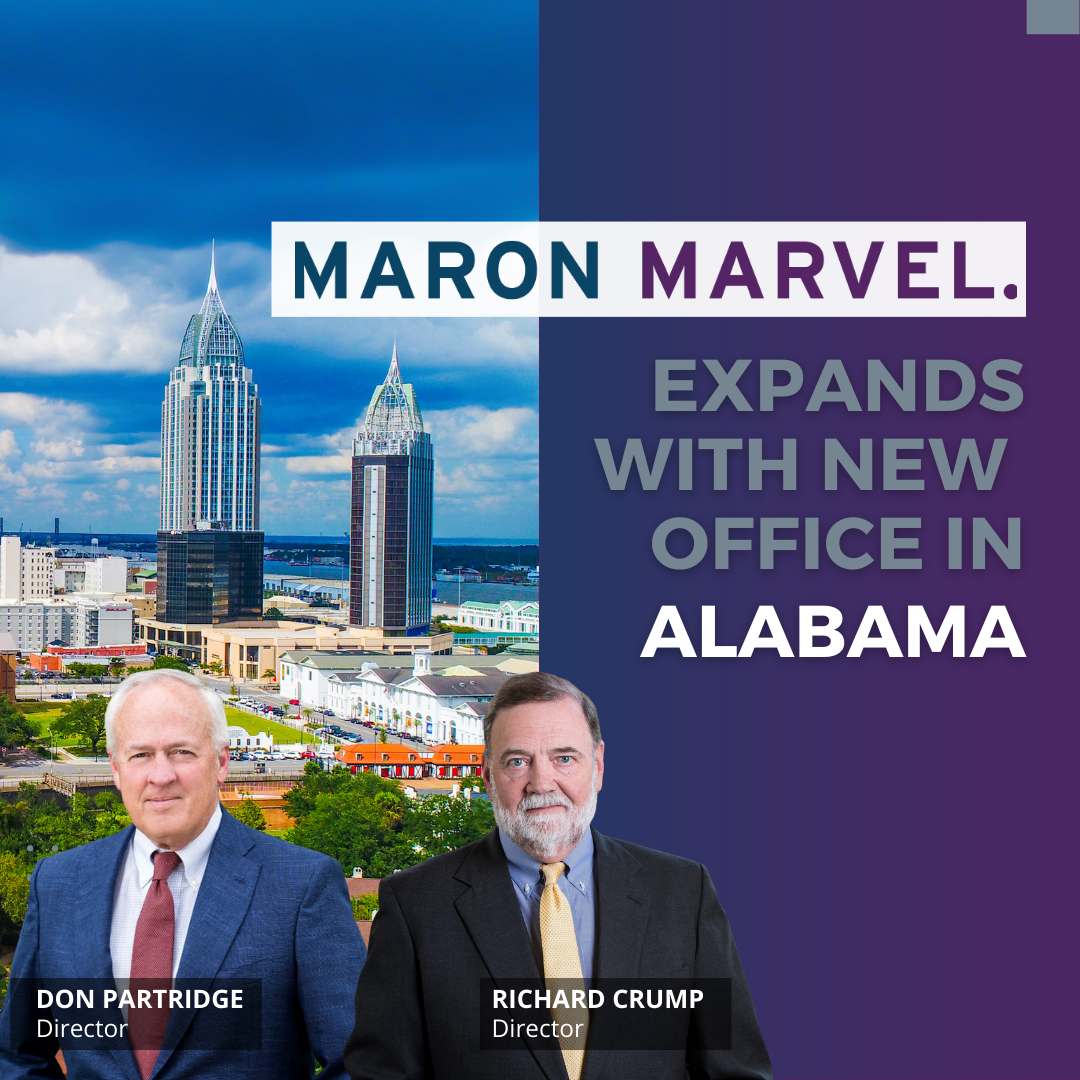 Explore
related services
Etiam porta sem malesuada magna mollis euismod. Nullam quis risus eget urna mollis ornare vel eu leo. Vestibulum id ligula porta felis euismod semper.